According to a study by Socialinsider , the usage of Instagram Reels has experienced significant year-over-year growth of 57.4%. The same study also found that, with an average engagement rate of 1.23% , Instagram Reels currently stand as the most successful content type on the platform.
Looking at the statistics, are you interested in knowing the secret to viral growth on Instagram? Curious about how to increase Instagram followers while conquering Instagram Reels and making the most out of its features?
Fear not, as our ultimate guide is here to answer all your questions about Instagram Reels!
Instagram changed the game for video content! The introduction of Instagram reels not only elevates the overall Instagram video experience but also unlocks a world of new possibilities for Instagram users and those looking to save Instagram Reels.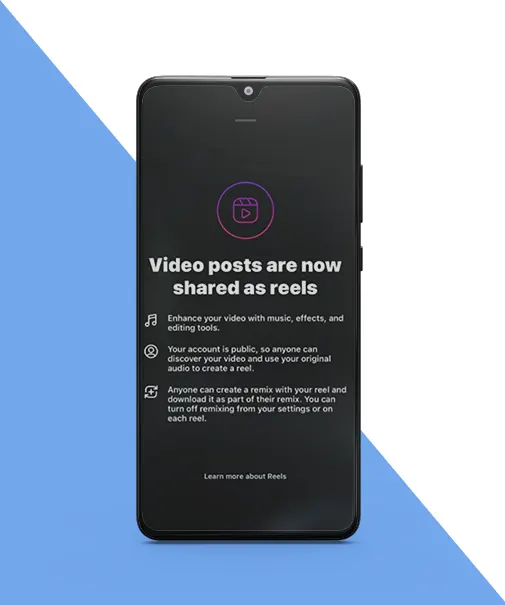 Yep, that means almost every video on Instagram will now flow through the Reels stream. To be precise, Instagram Reels are vertical videos that fill the entire screen. When recorded within the app, they can be up to 90 seconds long, while pre-shot videos can be up to 15 minutes long when uploaded.
But Why the switch? Well, Reels are exploding in popularity. People can't get enough of this format, thanks to the TikTok craze that's reshaping how we consume content. It's time to ride the Reels wave and boost your engagement.
But wait, there's more! Instagram is introducing awesome creative tools for reel clips. Now you can collaborate like never before. These Instagram updates will provide more opportunities for collaboration within reel clips.
Expanded Remix layouts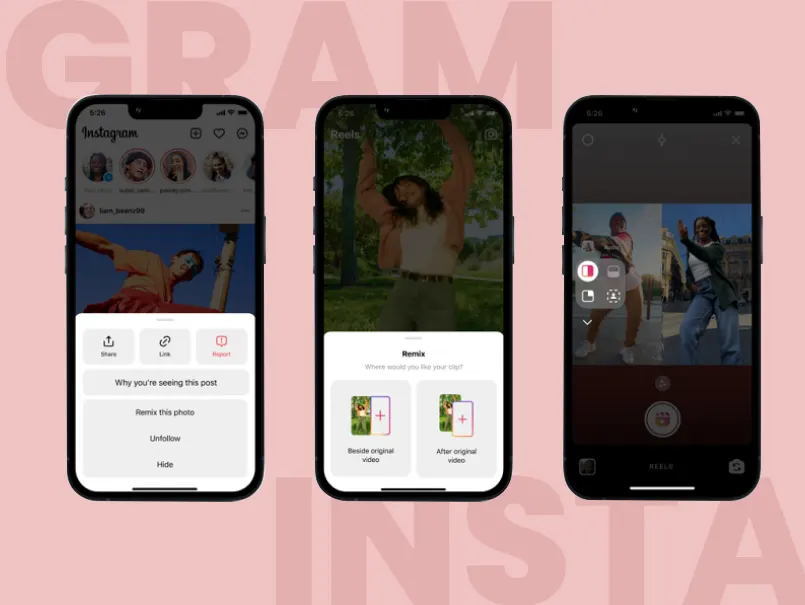 Expanded Remix layouts provide options like green screen, split-screen, and picture-in-picture, allowing users to add video commentary to existing Reels.

Users can now add their clip after the original reel, playing it sequentially instead of simultaneously.
Reels Templates & Dual Camera Mode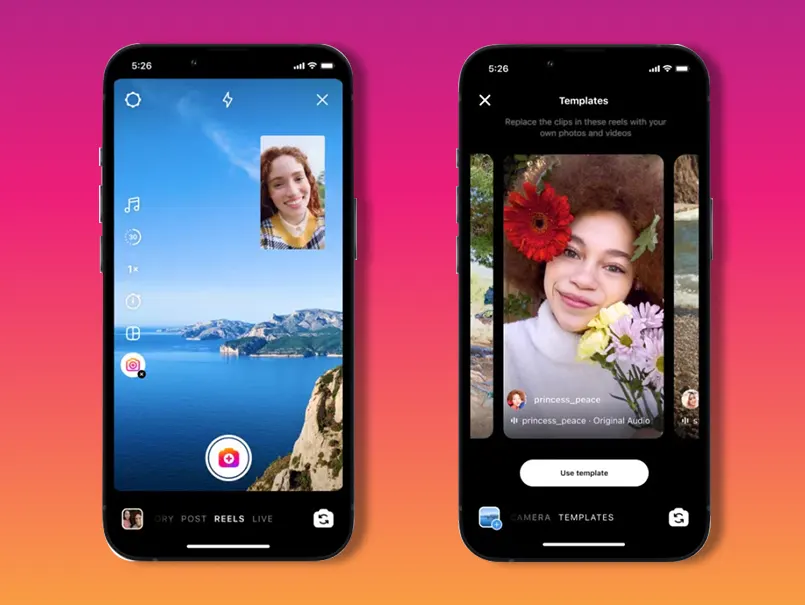 Reels Templates

Instagram expanded reel templates, allowing users to utilize popular formats for their clips.

Templates save time and effort by offering pre-designed formats to create engaging Reels.

Interested in learning how to use Instagram reel templates? Watch Hootsuite's informative video.

Dual Camera Mode

The new Dual camera mode enables simultaneous content and reaction capture using front and back cameras.

It adds dynamic storytelling and boosts engagement in Reels.
Want to understand how the Instagram Reels algorithm works? Click here to learn more.
The Instagram Reels algorithm functions by prioritizing videos based on their perceived likelihood of engaging viewers. Several key factors influence the algorithm's decision-making process:
User Interactions
The algorithm considers the posts you frequently interact with, such as liking or commenting on content through Instagram hashtags and tags. If you engage with someone's posts regularly, you are more likely to see their content in your Reels feeds.
Content Preferences
The algorithm takes into account the type of content you engage with. For instance, if you enjoy specific content categories and incorporate corresponding hashtags for Instagram Reels or use relevant Instagram tags, the algorithm will continue to show similar content based on your preferences.
Timing and Relevance
The timing of a post is a crucial aspect considered by the algorithm. It determines if the content is relevant to you based on when it was posted. Additionally, the algorithm considers your scrolling habits to select and prioritize the content to display.
In summary, the Reels algorithm favors original, entertaining, and high-resolution videos. Including captivating captions for Instagram posts increases the chances of reaching a wider audience.
Two Approaches to Creating Instagram Reels :
1. The Reels Tab
To make a Reel from the Reels tab, simply tap on the Reels tab and click the camera icon located at the top right of your screen.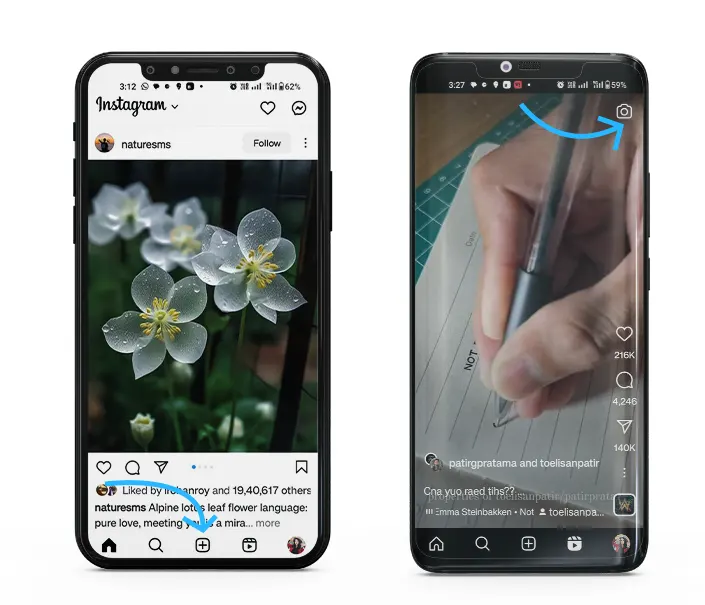 2. From Home Screen
This approach requires more effort and planning. It involves creatively building reels, adding effects, texts, and audio, and editing the clips. Templates are also available to provide a starting point.
Creating a Reel in Practice:
1. On Instagram, click the plus button.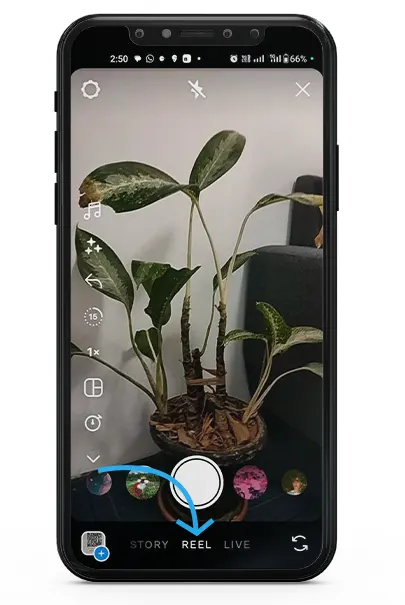 2. Start recording your Reel or upload content from your camera roll.
3. Reels can be recorded in a series of clips or all at once.
Make Compelling Reels
Demonstrate your product or service in action, highlighting the surrounding elements.

Showcase top picks, provide styling tips, share behind-the-scenes glimpses, and emphasize why customers should choose your brand.
To post a Reel on Instagram, follow these simple steps:
1. Finalize Your Video
After uploading your video, review it along with the effects and sounds to ensure everything is as desired.
2. Double-Check the Details
Tap "Next" in the bottom right corner of the screen. Add relevant hashtags for Instagram posts and captivating one-word Instagram captions . To increase your reach, use proper Instagram profile photos. You can also choose to cross-post your reel using hashtags for Instagram Reels.
3. Share Your Reel
At the bottom of the screen, you'll find two buttons. One saves the video to your drafts, while the other shares it on the platform. Once you hit "share," your Reel will be successfully published.
Interested in learning how to upload Instagram reels with high quality? Click here!
To download your own Instagram Reels, follow these steps:
Open Instagram and go to your account's Reels tab.

Find the Reel you want to save and tap on it to open it in full-screen mode.

Tap the three dots in the bottom right corner to access the menu.

Select "Save to Camera Roll." The video will be saved automatically to your device.
Interested in learning how to download Instagram Reels and share them on social media platforms? Click here!
1. Stay Up-to-Date with Trends and Post Content Consistently
Stay in the loop with trends in topics, music, effects, and styles. Use trending hashtags on Instagram to boost your content's reach and engagement. Show awareness of the evolving social media landscape by posting consistently and providing a distinctive brand narrative.
According to a study by SportSocial, it is recommended to start with an average benchmark of posting 1-2 times a day.
2. Incorporate Humor and Evoke Emotions
Emotions play a crucial role in making content shareable. One of the most effective emotions to leverage is humor. Explore ways to authentically infuse humor into your content to connect with your audience and attract more Instagram followers.
3. Post when your Followers are Active
Timing is crucial on social media. Posting when your followers are active maximizes early engagements, signaling popularity to the algorithm. Catch your audience's attention with your Instagram bio to ensure visibility and impact.
To know the best time, open the app, go to your profile, tap professional dashboard, > account insights, > total followers, > most Active Times.
4. Feature Relatable and Engaging Talent
Choose relatable, experienced, expressive, and versatile talent for your product or service. Test multiple actors to find those who resonate best with your audience. 66% of consumers find short-form video content the most engaging, as per Sprout Social.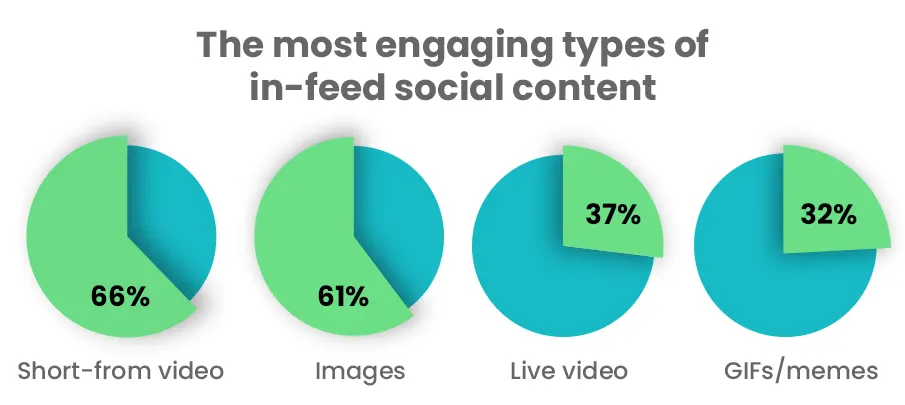 WHAT TO AVOID?
Excessive Posting

Breaching Community Guidelines

Sharing Misinformation:
Let's explore the top brands that have leveraged Reels to craft innovative and captivating content for their audience.
Samsung
Samsung's marketing approach emphasizes the importance of understanding the audience by implementing a reel strategy that shares diverse content types to entertain and showcase their products.
With a focus on tech enthusiasts, Samsung crafts Reels that resonate with its target demographic.
The company also prioritizes visually captivating videos that have the potential to go viral. Consequently, Samsung's reel posts not only entertain but also showcase the uniqueness of their products, using captivating Instagram highlight covers.
PlayStation
An excellent illustration of effective marketing through Instagram Reels can be seen in PlayStation's promotion of their new game Stray, where players assume the role of a cat navigating a post-apocalyptic world.
During July, the gaming giant shared a captivating reel featuring the game's protagonist, Ginger, and within a month, the clip garnered an impressive 1.3 million views, effectively providing a glimpse into the gameplay while showcasing the game's remarkable camera work and graphics.
This example highlights the immense potential of Instagram Reels as a powerful tool for marketers when utilized strategically.
The choice between Reels and Posts depends on your goals and preferences. Reports suggest that Instagram is shifting its focus back to posts after the video-centric Reels launch. However, integrating Instagram Reels remains crucial for establishing an organic presence, gaining the highest number of followers on Instagram, promoting your business, and making them an essential part of your social media strategy.



Frequently Asked Questions
Q1. Can you boost reels on Instagram?
Ans.To boost your Instagram Reels, create engaging content that resonates with your audience, encourage interaction, collaborate with influencers, cross-promote on other platforms, use strategic hashtags, engage with the community, and consider utilizing Instagram ads.
---
Q2. Can you see who watches your reels on Instagram?
Ans.No, Instagram does not provide a feature that allows users to see a specific list of who has watched their Reels. The view count on Reels represents the overall number of views, but individual viewer identities remain anonymous.