Are you a local business owner looking to attract more customers and dominate your market in 2023? The power of local search ranking factors cannot be underestimated. Studies suggest that "near me" mobile searches increased by 136% just in the last year. With the majority of consumers relying on search engines to discover nearby products and services, optimizing your online presence for local searches has become essential. By understanding and implementing the top seven local search ranking factors for 2023, you can skyrocket your visibility, outrank your competitors, and capture the attention of your target audience. So, get ready to unlock the secrets to local SEO success and take your business to new heights.
Local search ranking factors are a set of criteria and signals used by search engines to determine the visibility and position of local businesses in search engine results for location-specific queries.
For instance, when a user performs a search with local intent, such as looking for a nearby restaurant, plumber, or store, search engines aim to provide the most relevant and useful results based on the user's location. The significance of local search ranking factors for local businesses cannot be overstated. Here's how they impact search engine visibility and why they matter:
1. Local search factors determine business visibility in SERPs.
2. Local search factors target audiences effectively. Optimization attracts relevant users, increasing conversions and sales.
3. Optimizing for local search factors provides a competitive edge, outperforming competitors and capturing more market share.
4. Positive reviews and accurate information build trust and credibility.
5. Mobile search is crucial. Local ranking factors optimize visibility on devices for immediate solutions.
6. Local search factors improve the user experience, aiding customers in finding and contacting businesses conveniently.
Local search factors are thus crucial for business visibility. By optimizing for these factors, businesses enhance their online presence and success in local markets.
In this survey, experts were asked to rate the significance of various factors influencing local search engine rankings in early 2023. The factors were divided into two categories: local pack and localized organic results.
The "local pack" refers to the results displayed on Google Business Profiles, which typically include a map and a few select listings. On the other hand, localized organic results pertain to traditional search results that consist of clickable website links.
For those aiming to enhance their rankings in both local pack and localized organic results, it's beneficial to consider the average importance assigned to the local SEO ranking factors when combined.
The importance of Google Business Profiles for Local Finder rankings increased from 15% in 2015 to a peak of 36% in 2021 but slightly dropped to 32% in 2023.

On-page signals have risen from 17% in 2021 to 19% in 2023.

Focus on optimizing Google Business Profiles and on-page signals for better Local Pack/Finder rankings.
On-page optimization and links are the most significant factors for localized organic rankings, with a combined importance of 62%.

Citations have consistently remained at 7% importance after declining between 2018-2020.
In conclusion, the factors and their respective average importance percentages are as follows:
1. On-page optimization (28%)
2. Google Business Profiles (21%)
3. Links (19%)
4. Reviews (11%)
5. Behavioral signals (9%)
6. Citations and Personalization (both at 7%)
Now, that you know the key findings of the study, let's dive inside and know the top 7 local search ranking factors that can greatly influence your business's online visibility in 2023.
To boost online visibility for local businesses in 2023, a strategic approach to local search ranking factors is essential. Implementing key factors can enhance an online presence and attract more local customers.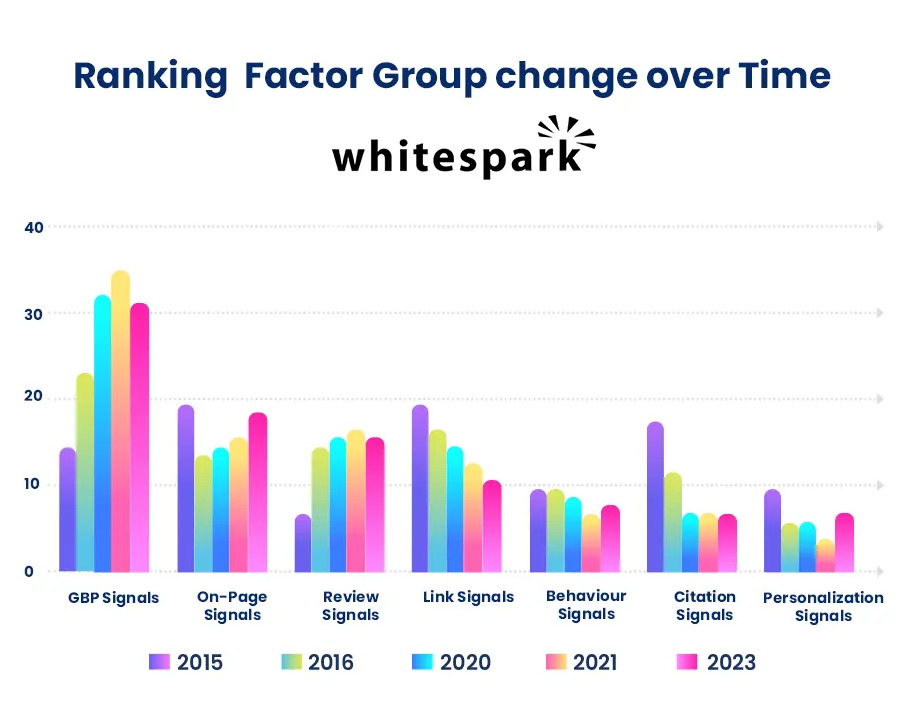 Google Business Profile (GBP) signals play a crucial role in local search rankings, with several important individual factors that impact their effectiveness. These factors include the primary category of your business, the use of relevant keywords in the business name, and the proximity of your business address to the location of the user's search.
GBP has been consistently growing in importance for rankings, maintaining its position as the top ranking factor with a slight decrease from 36% in 2021 to 32% in 2023.
Local businesses must create a Google Business Profile on Google for maximum boost and effectiveness. This involves ensuring the accuracy and currency of the business name, physical address, description, and photos. Active engagement through responding to customer reviews and inquiries is vital. Here's a video by Uberall's founder explaining how to boost your GBP effectively.

NAP data, title keywords, and domain authority are key on-page optimization factors. On-page signals play a crucial role in both traditional and local search intent. In 2023, their significance will have further increased.
Specifically, having relevant and dedicated service pages, implementing strong internal linking, and maintaining topical relevance across the website can positively impact local rankings.
Ignoring the optimization of your local business website for search engines is a mistake. Optimization improves visibility in both general organic and localized searches. On-page optimization remains essential, and mastering this aspect of local SEO strategy is highly recommended. Here's a video by Uberall explaining how to master on-page SEO optimization.

The significance of reviews as a ranking factor has seen a gradual increase over the past few years. In 2018, reviews held 12% importance, which rose to 17% in 2021. Although there has been a slight decrease to 16% in 2023, this stability demonstrates the continued value consumers place on reviews.
Experts have consistently identified a high Google rating derived from reviews as the leading driver of conversions in GBP for the second consecutive year. Thus, reviews not only aid local businesses in ranking but also have the potential to boost sales. Monitoring, expanding, and showcasing reviews benefits businesses' local rankings.

While link signals have been ranked as the fourth most significant local intent factor, their relative importance has gradually decreased over time. This decline may suggest the challenges associated with link building, but it should not undermine the significance of establishing a strong link profile for your website. Experts concur that links continue to deliver powerful local SEO campaigns.
However, it is crucial to exercise caution when engaging in backlink building. Build a strong link strategy for local marketing through your website and social media.

Behavioral signals take the lead in local ranking factors, closely followed by citation signals with a 7% vote share. Citation signals pertain to the uniformity of a website's name, address, and phone number across various online directories.
The diminishing relative importance of citation signals may indicate the heightened competitiveness of the local SEO environment. Here's a video by Uberall showcasing how to improve online citation signals robustly.
Google's algorithm relies on various behavioral signals to determine the order of local search results. These signals are indications of how users interact and engage with local business listings and websites. Some commonly monitored user signals include:
Click-Through Rate (CTR): Measures user clicks on search results.

Mobile Clicks to Calls: Tracks clicks leading to phone calls.

Social Media Check-ins: Monitors user check-ins on social platforms like Instagram, Facebook, etc.
Search engines analyze these factors to assess the relevance and value of businesses, helping them determine their ranking positions in local search results. Monitoring reviews boosts local rankings and attracts more customers.
Personalization experienced a minor increase in significance, rising from 4% to 6% of the local SEO ranking factors votes. However, this change may be considered statistically insignificant. Personalization pertains to Google customizing search results based on individual preferences.
For instance, if a user constantly clicks on articles related to technology news, Google might prioritize such articles and display them prominently in their search results. Unlike the previously mentioned local SEO factors, individuals have no control over or ability to alter this aspect.
Thus, achieving SEO success is an unpredictable journey with no guaranteed outcomes. It demands continuous research, dedicated efforts, and adaptability in strategy. Search rankings are influenced by numerous factors, and the associated tasks vary in their level of ongoing effort. Knowing your priorities and being flexible when adjusting your focus will be crucial to outperforming your competitors.



Frequently Asked Questions
1. How do I add social media profiles to Google My Business?
Ans. To add social media profiles to Google My Business, add your website link and an external link to social profiles. Use alt text for social media icons, include schema markup on your site, and promote posts to grow your audience. Create engaging content and add social profile links on other properties. Integrate your social media presence with Google My Business effectively.
---
2. How do I target local keywords?
Ans. To target local keywords effectively, incorporate them into your website content, create dedicated landing pages, optimize your Google My Business profile, ensure consistent information across directories, encourage customer reviews, seek local backlinks, engage on social media, and monitor performance.